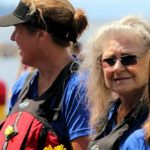 Fifteen years ago I joined the Wellness Warriors Team with my daughter after my 1st cancer surgery. Like so many I have had relocating cancer, surgeries, chemotherapy, radiation, and clinical drug trials. But through all this I feel grateful for many things, my faith, family, friends and my united Wellness Warriors.
The Wellness Warrior Family added the immediate support I needed. It was where I instantly felt welcomed through acceptance, encouragement, and love from the exceptional heartwarming men and women on our team. It is a safe, non-judgmental place where I was a teammate, and an athlete for the first time in years. My daughter and myself have been team members since the beginning. Due to our exceptional team leaders we just came back year after year until we realized we have been coming for 16 years. During our time with the team my single daughter is now married and gave birth to two beautiful boys who are our smallest but loudest fans.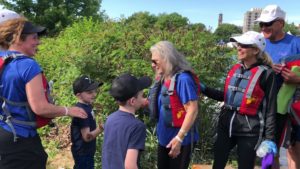 Looking back we recall being newbies and being surprised they even wanted us, knowing nothing about Dragon Boating. The Wellness Warrior community welcomed us with open arms and with much patience; they coached us into warriors, "WELLNESS WARRIORS."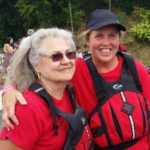 When paddling with our team in a race we feel courageous, and fearless. It doesn't matter if you are a man or woman, young or old, a beginner paddler or an experienced one. All celebrate life together feeling truly alive. It is thrilling being on the Charles River being challenged, developing true friendships and paddling as one to the beat of our drummer. Wellness Warriors restores and gives new hope. Hope for yourself, Hope for our team, Hope and wellness for all, and Hope to win one day.