Wellness Warriors' history starts with a gift of race prize money from another team!
Coach Peter Lew, an early proponent of Dragon Boat racing in New England and other areas of the United States, has watched the sport evolve for cancer survivors. Said Lew, "[In 2003] there were few women's teams and no cancer survivor teams. Then the breast cancer survivor team Cote-A-Cote (Two-Abreast) showed up at the Boston Hong Kong Dragon Boat Festival looking to race."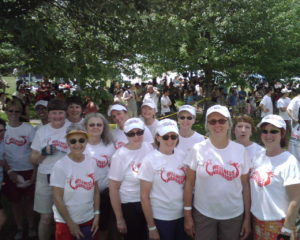 After that race, Lew approached The Wellness Community Greater Boston, who expressed interest in his ideas. A door opened in 2004 when the Rhode Island Dragon Boat Festival included a special breast cancer survivor race. Lew encouraged future Warrior Beth Parkhurst to join paddlers from his reigning municipal challenge championship team, "Pride of Pawtucket."
This endeavor paid off when the team went on to win a $1,000 prize. They generously presented their winnings to the executive members of The Wellness Community, who used the money to fund an all-cancer-survivor (ACS) team in 2005! Within two years, "The Hope Boat" dragon boat team was established under the umbrella of The Wellness Community.
New beginnings
When The Wellness Community closed abruptly in 2009, we lost funding and a physical home. We worked hard to stay afloat. Because of our friends – Pauline Alighieri of Friends of Mel Foundation, United Commercial Bank, Boston Dragon Boat Committee, Charles River Apparel, paddlers' friends and family – we were able to restructure and incorporate as a non-profit organization, Wellness Warriors.
Wellness Warriors celebrated 10 years in 2017!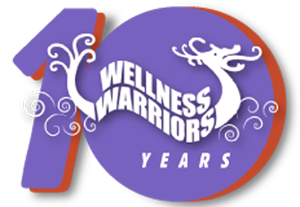 We celebrated Wellness Warriors' 10th anniversary by welcoming all-cancer-survivors (ACS) teams at the 38th annual Boston Hong Kong Dragon Boat Festival. A special celebration race, a scavenger hunt, a huge tent housing the ACS teams under one roof, a magnificent spread of food donated by sponsors and volunteers – it was a day of celebration and community for our guests!
Wellness Warriors today
Wellness Warriors has evolved from a fledgling group of participants in 2004 to a well-organized organization supporting about 80 members in 2019.  From the start, we have been an all-cancer-survivors (ACS) team, welcoming anyone who has heard the words, "You have cancer."
Thank you to Nancy Passavant for documenting our origins!