---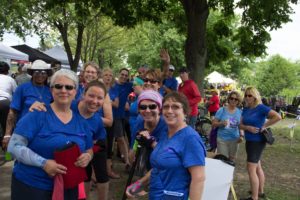 Without your help and the help of others, our dragon boat team for cancer survivors would not be possible. Your generosity helps the team meet our operating expenses. It also helps us reach out to new paddlers in the metropolitan Boston area. Through our paddling program, we hope to inspire every cancer participant who sees us or paddles with us to share in the joys of this active, exciting sport that offers great exercise and bonding friendships with other cancer survivors.
​
We welcome financial support and/or in-kind contributions. These are some of our needs:
Race entry fees that vary from $600 to $1,760 per race
Rental fee for use of the Boston Dragon Boat Festival boats
Docking expenses
Insurance
Team equipment (additional life vests, purchase of replacement paddles)
Team uniforms (example: breathable wind/rain jackets, quick-dry race shirts, team polo shirts)
Travel expenses for the team to compete in national dragon boat races against other cancer survivor teams
Printing expenses for team brochures
Our own team dragon boat!
---
Your contribution to the team can be made in several ways, outlined below. Wellness Warriors, Inc. is a 501(c)(3) tax-exempt, non-profit organization.
1. Make a Tax-Deductible Cash Contribution
Please complete the Sponsorship Form. Then either mail us a check or donate online.
a. Mail
Send a check payable to "Wellness Warriors, Inc. to the following address. If possible, please include a hard copy of your email receipt from your sponsor form with your check. Also, if your donation is in honor or memory of someone, and you'd like us to send an acknowledgement to that person, please include the appropriate address.
​
Wellness Warriors, Inc.
P.O. Box 610-154
Newton Highlands, MA 02461
b. Donate Online
After completing the sponsorship form submit your donation online using PayPal:
​
2. Make an In-Kind Contribution
Please contact us at support@wellnesswarriorsboston.org if you can help us with our equipment or other needs.
​
3. Become a Listed Sponsor
You can complete and submit our sponsorship form online. To learn more about how you can become a listed sponsor or contributor with us, please contact us at support@wellnesswarriorsboston.org.
​
4. Shop using AmazonSmile and ebay
Shop at smile.amazon.com and Amazon will donate 0.5% of the price of your eligible AmazonSmile purchases to Wellness Warriors, Inc.
And add us as your favorite charity on ebay, making it super easy to donate to us from your sales.