---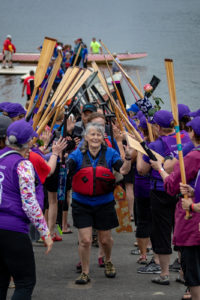 Dragon boating on the scenic Charles River through the summer
Stress relief
Cardiovascular and strength training (known to reduce risk of cancer recurrence and increase well-being after cancer)
Increased range of motion
Camaraderie with other cancer survivors
A chance to race against other survivor teams
Your membership on the team includes practice sessions from May through August. If you have never paddled before, we will teach you. We provide the boat, paddles, life jackets and coaching. During the rest of the year we gather for winter training, monthly exercise events, and celebrations. We also participate in projects to raise funds for our paddling season and to meet our operational needs.
​
For more information, please visit our Join Us page.
We are cancer survivors. We are a unique floating support group. We love laughing, paddling hard, and being with each other.