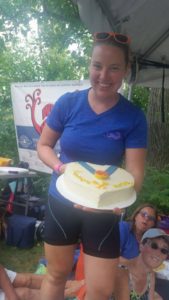 I'm one of the strange breed who grew up dragon boating—it's kind of a big deal in Portland, Oregon, where I grew up. I raced for my high school team, but an ovarian cancer diagnosis as a teenager put an end to my paddling on the Willamette. After ten years out of the sport, I rediscovered the joy of being on the water with the Wellness Warriors. We love a good workout and constantly push each other to refine our technique, build strength, and get faster on the water. We'll do anything for some race day bling!
But more important than racing is our team support and friendship. As a West coast transplant living far from home and family, I was struggling in Boston before Wellness adopted me. It is incredible to be a part of this family, where I've gained honorary sisters, moms, aunts, and cousins (the family tree is a little complicated!). This community is an incredible and irreplaceable source of joy and strength for me.
And of course I have to say that I love this team's appreciation of good food. I'm a baker who's always looking for a hungry crowd to taste-test my latest creation–birthdays, race days, and random practice days all deserve a little sweetness to share.