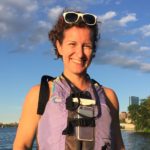 When using either type of erg the goal is to build strength and endurance.  Ergs are great at working both of these things.
Instead of just going for as long as possible, try to do smaller sets of about 3-4 minutes at a time.  If your goal is to specifically train for dragon boat you want to mimic a race.  The goal would be to build your endurance to just longer than a typical race.  You are only in the boat paddling hard for about 3-4 minutes when all is said and done.
My suggestion would be to erg comfortably for a 3 minute piece.  Take a 1-2 minute rest.  Erg a little harder for another 3 minute piece.  Take a 1-2 minute rest, then make set # 3 your best distance and split time.  Take another 1-2 minute rest and then do a comfortable paced 3 minute piece at the end.  Track your distances and keep a log.   You should definitely see that your middle two pieces keep improving.   Pay attention to your split time and most importantly keep that split time very consistent throughout the piece.  You should be able to lower your split time in the last 30 seconds of each 3 minutes.  If you cannot lower the split at all in the last 30 seconds then you are too gassed out and started out too quickly.  If its very easy to lower the split at the end then you probably saved too much for the end.
Practice makes perfect……just kidding:  "perfect practice makes perfect"   make sure to use good form!
If you don't have a paddling or rowing erg then try this with walking or jogging or biking…