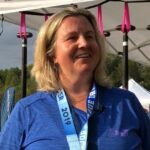 I had no idea what I was getting into on that first night of dragon boat practice. I had done an online search for cancer survivor groups in Boston and stumbled across the Wellness Warriors. I had never heard of dragon boating and I didn't know anyone on the team. It was nothing more than curiosity that got me to show up on that warm May night.
What I discovered is that dragon boating is a thrilling team sport! The paddlers, the drummer, and the steerer are all working together to make that boat fly across the water. We are by no means a team of finely tuned athletes, but we are resilient and full of heart. When the team is in sync, you can absolutely feel the power of the boat.
When I think about Wellness Warriors, I think about the people. My teammates. They are the reason that I keep coming back. The camaraderie. The laughter. The joy of paddling together on those gorgeous summer nights out on the Charles River, watching the sun shimmer on the water. The fun of paddling under the Mass Ave bridge to the cheers of pedestrians up above. The nights when we have practice are golden. It never gets old.
One of the things I love most about our team is that everyone is welcome. We are a team of all cancers, all ages, all shapes and sizes, all levels of fitness, and all phases of treatment. We have members who have paddled for years and members who had never held a paddle before last summer. Personally, I love the exhilaration of race days but some of our members prefer to skip the races and paddle casually. We're happy to have anyone with the dragon spirit join our boat!