---
On a beautiful (and exhausting) day on Mercer Lake outside Princeton, NJ, I joined a team of cancer survivors competing for gold and celebrating our collective wellness journeys at the Mercer County Dragon Boat Festival on 14 September 2019. My team – the Wellness Warriors, Boston's only dragon boat team for cancer survivors – competed in three separate race distances and made it to the grand finals, ultimately earning us the coveted Gold Dragon trophy and the championship spot in the event's All Cancer Survivor division.
The win not only gives us a spot to compete in next year's International Dragon Boat Federation (IDBF) Club Crew World Championships in Aix-les-Bains, France, it also helped us achieve a goal we set three years ago to raise our competitiveness level and take on bigger challenges. I couldn't be prouder of my teammates or more thankful for the support and encouragement we received throughout this process.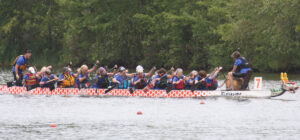 Strong Showing
At the festival, which is an Eastern Regional Dragon Boat Association (ERDBA) event, we competed in five separate heats covering three different distances: 200 meters, 500 meters, and 2,000 meters. I was seated in the boat as "stroke" for each race – sitting in the front of the boat and setting the pace for our team – providing my toughest personal competition challenge with this team. This race was also the fiercest competition we have been up against in my three years with the team, and as we raced against teams in non-cancer divisions, it was encouraging to realize that we were not only staying in the mix and competing with the other boats, we were beating some. That confidence boost helped propel us to the best times we've ever had and kept us feeling strong throughout the day.
Strong Team 
The Wellness Warriors has 90+ members, some of whom are newly diagnosed with cancer while others are still in treatment or years beyond. No matter where each of us is on the cancer journey, we all rise to the physical challenges of dragon boat paddling. As a group, we strive to provide new opportunities for cancer survivors to heal – both physically and emotionally – by being active participants in our own recovery and part of a mutually empowering dragon boat team.
While we have teammates at all levels of interest and physical ability, we have some paddlers who want to challenge themselves physically and be competitive. Together, we chose to set our goals on serious competition, and I'm thrilled at what we have accomplished. The love we discover for this exciting sport and for each other creates magic in the boat, which we all felt in this competition and will carry us into our offseason.
Strong Support System
My teammates have been a source of inspiration, and we couldn't have done it without our amazing coaches, who volunteer their time, offer us guidance and workout advice, and coach us through competitions.
I am also thankful for the support of my colleagues at Simpson Gumpertz & Heger (SGH). Their encouragement and generosity have been a constant for me as I fought cancer and came out as a survivor and dragon boat competitor. SGH has sponsored our team, and I look forward to finding new ways to engage this community as we prepare for international competition in France next year!
This post originally appeared on the SGH website on September 23rd, 2019.  If you would like to stay tuned to our various team activities and general shenanigans, you can do so by subscribing to this blog using the subscription form on this page.